The Marimo Exhibition and Observation Center
---
We are protecting Lake Akan and pursuing roads toward both preservation and the further propagation of marimo. The Center's goal is to elicit a more thorough understanding of and an increased interest in the preservation of our environment through stirring displays and exhibits about marimo.
---
The Marimo Observation Center was built in 1978. Over 500,000 people wishing to see marimo visit this center annually. In 1996, in order to offer a deeper understanding of marimo and to assist in their preservation, the exhibit's displays were renovated and our research activities were enriched.
The new center is not only equipped with a video system which allows constant observation of marimo in their watery habitat, it is also equipped with a birth and breeding experiment zone for the purpose of propagating and preserving marimo.
The displays and presentations at Lake Akan's Marimo Observation Center are unparalleled.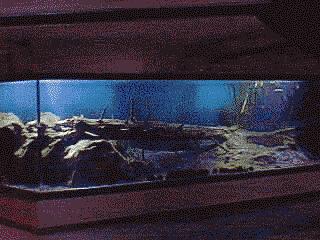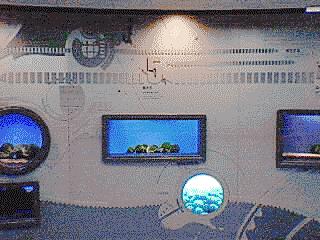 Upon entering the exhibition center visitors first encounter three television monitors which present information about marimo. The presentations are entitled:
From the Universe to Lake Akan

The Lake Bottoms Where Marimo Dwell

Lake Akan's Four Seasons
Highly recommended and definitely worth a look are the graphics in the "From the Universe to Lake Akan" presentation in which a marimo is morphed into the shape of the earth. The exhibition center's mural presents a variety of current information about marimo in a descriptive design. The mural also contains hidden messages which are fun to search for.
---

Next Page

Index

Return to Akan-cho's Main Marimo Page