Marimo Are Returned to Lake Akan!
---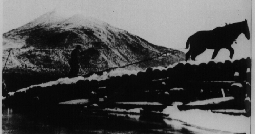 Above: A barrage of logs being pulled by a horse near Lake Akan in the golden age of logging. (Photo courtesy of the Teshikaga-cho Public Library.)

The massive as well as disastrous demise of a countless number of marimo on the shores of Lake Akan in the spring of 1950 stirred the public's conscious. The disturbing occurrence awakened the public to the fact that marimo were perishable living things and could inadvertently be extinguished. Public opinion in favor of the preservation and protection of marimo grew rapidly. Insurgence against the misappropriation of water from the lake and the resulting lowered water level grew in accordance with the public's new protective consciousness. In the 1950's environmental movements and preservation efforts were not nearly as popular as they are today. The protective consciousness of that period and desire to preserve both the marimo and their environment pioneered the way for later environmental protection and preservation efforts.

Soon after the movement to protect marimo blossomed, the people of Japan were requested to return marimo to Lake Akan. Households nationwide were asked to return the bottled marimo souvenirs which had been purchased or received as reminders of a pleasant trip to Hokkaido. The people of Akan were inspired by the positive response of those wishing to return marimo. The Marimo Festival was born out of appreciation to those people who returned marimo and the desire to expand the preservation movement. On October 7, 1950 the first Marimo Festival was held. After a ceremony commemorating the return of marimo, an outdoor drama was performed followed by the departure of canoes from the hot spring side of Lake Akan. Canoes were paddled to Kinetanpe Bay where the returned marimo were put back into Lake Akan. After long voyages and even longer absences many marimo finally returned to their lake, their water, their home.

The marimo festival takes place from October 8th to the 10th every year in the town of Akan-kohan located on the shores of Lake Akan. During the festival three age-old ceremonies of the Ainu people (the race of people originally inhabiting Hokkaido) are presented. The first ceremony welcomes returned marimo back to the lake, the second ceremony is performed to bless or protect marimo, and the final ceremony is performed to send marimo back to their original home in Lake Akan. In addition to the festivities, informational lectures are offered along with field trips to view the marimo habitat. Through the Marimo Festival and related activities the spirit of preservation and protection continue to live today.
---

Next Page

Index

Return to Akan-cho's Main Marimo Page